Discover more from Retail Chronicles
Emerging trends in retail and new commerce
Over 1,000 subscribers
Retail Chronicles | 08.06.2020
Emerging trends in retail and new commerce.

Hello, it's Xavier from Spring Invest, a French investment fund dedicated to RetailTech. Welcome to our last edition of Retail Chronicles, our bi-monthly newsletter about emerging trends in retail and new commerce.
---
📉 News from the French retail apocalypse. After Alinea, Naf Naf and Andre, Camaieu and Les 3 Suisses just filed for the French equivalent of Chapter 11. While it's tempting to blame the covid-19 for this new batch of bankruptcies, the reality is more nuanced.
Les 3 Suisses is an e-commerce pure player and their problems stem from an excessive debt burden.
Camaieu has been struggling for years against a huge LBO debt and dwindling sales. Throw in management instability and a terrible 2019 fiscal year (due in part to the yellow vests protests) and covid-19 was the proverbial straw that broke the camel's back.
---
📊 In related news, Eurostat just released data on retail sales in EU for April 2020, highlighting the impact of covid-19 lockdowns on consumption. Compared to last year :
Retail sales dropped by 18.0%

Strong contrast between food (+1.4%) and non-food (-29.7%)

E-commerce is thriving (+25.3)
Country differences are staggering. France (-31.1%) and Spain (-29.8%) are the worst hit (Italian data unavailable) while Germany drops only by 6.2%, highlighting the impact of diverse lockdown strategies.
On a lighter note, the lockdown ended in France on May 11th for stores and on June 2nd for bars and restaurants. Anecdotal evidence hints about a strong rebound, but hard data are just starting to be released.
---
💡 Light at the end of the tunnel: Les Echos talked to various retailers and signs point to a very strong post-lockdown rebound in France. Key takeaways are :
A footwear retailer is +30% vs the same period last year

Eyewear stores are talking about +100%

Consumer electronics are cruising at +33%, while office equipment reaches +80%

Fashion is back to normal

The graph below highlights the strength of the recovery (red is online sales, white is offline sales)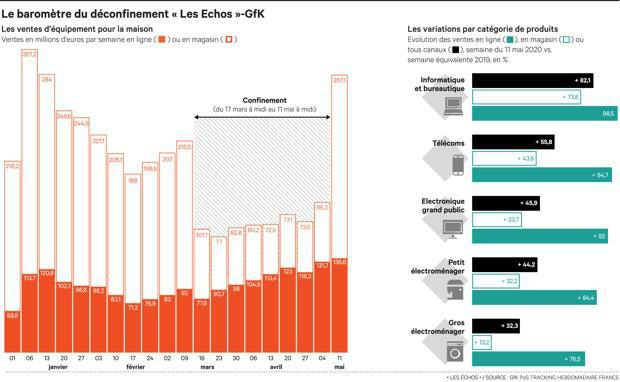 ---
💰 Unsurprisingly and adequately, the French covid-19 support plan has targeted commerce more than any other industry. France Stratégie released a detailed report on the public financial support to businesses impacted by covid-19. Retail (15.4% of employees) received 27.5% of loans.
Interestingly, small businesses (fewer than 20 employees) represent 31.6% of employees but received 55.7% of the loans.
---
🛒 If the covid-19 pandemic (especially the lockdowns) has taken a heavy toll on brick&mortar retail, it's been a boon for e-commerce, especially groceries. Techcrunch tells us US e-commerce grew by 49% in April. A very telling sign on the market trend, online grocery saw a 6% price increase in April.
This is in line with what we see in the French and European markets. French e-commerce rose to 10% market share in April 2020 compared to 6% last year.
To the question of whether this surge in e-commerce is temporary or durable, most industry players we've talked to think that the covid-19 crisis accelerated an ongoing transition and that e-commerce gained 18-24 months.
---
📰 Ben Thompson's Stratechery published a very interesting article on Shopify facing new headwinds, in particular competition from Facebook. Key takeaways are :
Facebook is an aggregator, they control the customers and aggregate suppliers for them

Shopify is a platform, they connect two populations (here merchants and 3rd party software developers) with network effects

Platforms tend to capture a small part of the value created in their ecosystem, while aggregators, in a world of quasi-infinite supply, capture most of the value

Shopify recently announced the Shop App, a customer-facing, while Facebook announced Facebook Shops, a suite of tools for merchant willing to sell on Facebook

For reasons both related to Facebook's actions and not, the payment experience for consumers is better if integrated within Facebook

Therefore, Facebook can and will progressively build integrated tools directly competing on Shopify's turf, and Shopify can't do much about it

Yet Shopify still has strong options, especially Shopify Fulfilment Network and its initiatives in the banking and financial services

By investing into the physical world, Shopify can escape Facebook's domination and build strong network effects, this will give them a powerful moat but will decrease their margins from their current position as a software vendor.
Of course, Facebook's move is basically what Chinese social networks have been doing for years, and Wechat-like vertical integration is the probable future of Facebook, absent new public regulation.
As always with Ben's stuff, we strongly recommend reading the actual piece, which is far richer than any summary we could write.
---
💬 An interesting interview of Jean-Charles Naouri, President of Groupe Casino (French). Key takeaways :
The covid-19 crisis has reinforced existing trends: the shift from superstores and large malls to small units in city centers

Increased segmentation of food retail with two diverging segments: low cost and discount on one hand and high service high quality (delivery, organic…) on the other

Supply chain and delivery technology is key for the high-end segment.
---
💰 London-based Fly Now, Pay Later raises £35m series A. We're seeing a lot of activity in this market with solutions designed to streamline payment and remove friction. Goldman Sachs recently launched a Point-of-Sale financing solution for its Marcus consumer banking brand. There are also strong French players in this space with Alma or Pledg, for instance.
Interestingly, the impact of the covid-19 crisis on this field is ambiguous as we can expect stronger demand but higher default rates.
---
📰 It's not exactly news but Zack Kanter has written a fascinating article on Amazon and it's every bit as powerful today as it was when he published it last year. What is Amazon? offers deep insights into Jeff Bezos' vision and management. Key takeaways are :
in 1994, Walmart was the leader of retail, having best solved the problem of optimizing limited shelf space: best products at the best price

Bezos saw that shelf space is infinite online and set to add vendors and products as fast as he could

But it wasn't fast enough and in 2002, Amazon realized that it could completely get away with vendor selection and negotiation, they launched Amazon Marketplace

Having removed the supply constraint, Amazon ran into new bottlenecks, namely IT infrastructure and merchandising

Then they realized that they could generalize the solution they had found for vendor selection, they built an interface to allow the broader market to solve it for them

Thus they created Amazon Web Services for IT and Amazon Catalog API for merchandising

The next stroke of management genius came when Bezos understood that over time those new services would become powerhouses and fall to bureaucratic complacency

So he exposed them to outside competition. He wrote an edict: All interfaces, without exceptions, must be designed from the ground up to be exposed to developers in the outside world; anyone who doesn't do this will be fired

This became the default procedure for Amazon when facing an obstacle, build a platform for which Amazon is only one of many customers: AWS, Fulfillment by Amazon, Amazon Lending, Amazon Flex…

Now Amazon is facing the one problem that this method cannot solve: product discovery. They've launched Amazon Advertising which rakes in roughly $10Bn annually, but Kanter argues, quite convincingly, that for the first time the "solution" does not improve customer value.
---
👍 If you like Retail Chronicles and want to help it grow, please share this newsletter with your colleagues, followers, and friends. If you hate it, then send it to your enemies. Have a great day, and see you soon!
About us
Spring is a French investment fund dedicated to companies that are shaping the future of retail. We invest both in Enablers, B2B companies providing innovative solutions to (e)retailers, and Disrupters creating new models of distribution. Our investment approach relies on strong relationships with 50+ European Retailers in order to provide sales acceleration to our portfolio. We also provide operational support with a dedicated team of Venture Partners working with our portfolio on sales, communication, HR, and internationalization.