Discover more from Retail Chronicles
Emerging trends in retail and new commerce
Over 1,000 subscribers
Retail Chronicles | 13.10.2020
Emerging trends in retail and new commerce.

Hello, it's Laurent from Spring Invest, a French investment fund dedicated to RetailTech. Welcome to the latest edition of Retail Chronicles, our bi-monthly newsletter about emerging trends in retail, brands, and new commerce.
[Une version française de cette lettre est disponible en suivant ce lien.]
---
💻 While digital brands are moving offline, traditional brands are thriving online
While DNVBs are moving offline, traditional brands are refining their digital strategy to control direct distribution channels.
Last Spring, PepsiCo Group launched 2 new e-commerce websites to directly sell its products online (PantryShop.com and Snacks.com). PepsiCo just announced promising figures with a doubling of its online sales since last July. The group also announced that it will increase resources dedicated to online sales to accelerate the development of this new line of revenue.
Same observation with Nike, whose physical sales fell considerably following many stores closing during the lockdown while e-commerce sales have exploded (+82% YoY).
For beverage brands, online distribution is widely said to be of particular complexity because of logistics issues. However, a similar phenomenon is observed with a direct sales strategy borrowed from new Direct-to-Consumers brands, which are giving excellent results.
Today's challenge for major brands is to test the online market using a new infrastructure similar to the ones of DNVBs, without disturbing traditional supply chains dedicated to traditional distribution.
---
🚚 Uber Freight is refocusing on its domestic market to accelerate its development
Uber is well known for its B2C services: ride-hailing, bikes, and food delivery. B2B activities are more confidential. Take Uber Freight, launched in 2017 in the US, then in Europe in 2019, as a platform to facilitate the exchange of information between carriers and shippers so as to help them anticipate costs, manage tenders, and monitor deliveries.
After leaving Europe to better focus on its domestic market, Uber Freight has just announced a 500 million USD fundraising round which will allow the company to accelerate its deployment in the US, develop its platform, and extend its offer with the launch of management tools dedicated to shippers, large accounts and SMEs (Uber Freight Enterprise), as well as tools open to third-party carriers (Uber Freight Link).
Logistics is definitely a sector that has been moving considerably in recent months, with the digitization of all of its functions at a rapid pace.
---
🔍 Hiring plans of traditional retailers say a lot about the evolution of their distribution channels
While worldwide e-commerce has shown impressive growth rates since the beginning of the year, the trend seems unlikely to stop. Deloitte is forecasting a +25% to +35% growth in online shopping for the end of the year period. In anticipation of sustained online activity, retailers are getting organized and the recruitment plans announced in September reveal some surprises.
While retailers traditionally recruit additional vendors to help in-store sales during the Christmas period, they are now planning significant hires to strengthen their e-commerce activity, and especially e-commerce logistics.
Walmart plans to recruit 20,000 people, mainly in its e-commerce logistics centers, while Target and Gap have announced they will double the number of hires vs. last year, to strengthen their logistics functions for the holiday season.
Omnichannel distribution isn't solely a technological issue. It also involves deeper transformations of organizations and the teams they're made of.
---
👚 The fashion market is reconfiguring
2020 will be a difficult year for fashion brands with strikes in January, the closure of stores during the lockdown, and flash sales postponed to July that directly impacted in-store sales.
At the same time, fashion e-commerce was accelerating, according to figures recently published by Kantar:
30% of French people bought a fashion item on the Internet during le confinement;

2.6 million new customers, of which 57% placed further orders within 2 months;

E-commerce captured nearly 24% of orders from the fashion market;

Omnichannel players are showing significant growth in the online market, capturing half of the e-commerce spending.
After lockdown, 17% of French people continued to buy online, compared to 3% historically, a sign that fashion e-commerce sales could last.
Online sales will unfortunately not be strong enough to compensate for in-store sales, which may drop by 17% in 2020.
---
🥊 Amazon vs Retailers: Amazon caught up in its own game?
The Amazon Prime Day will take place on October 13 and 14. American retailers are preparing to counter Jeff Bezos' firm on a surprising battlefield: logistics.
Amazon's main strength is its ability to deliver ever-faster to consumers. American retailers have decided to beat Amazon at its own game by offering a large number of references available in less than an hour. Nearly 160,000 and 250,000 references will be made available which such a promise by Walmart and Target, respectively, through their click-and-collect service (in drive-ins and stores).
Throughout the lockdown, US retailers have intensified their efforts so as to serve very large volumes of orders in short periods of time. Simultaneously, consumers discovered the quality of logistics provided by traditional retailers and got even more used to obtaining products fast and with little effort.
The battle between Amazon and traditional retailers is far from being over.
---
🤖 The economics of vending machines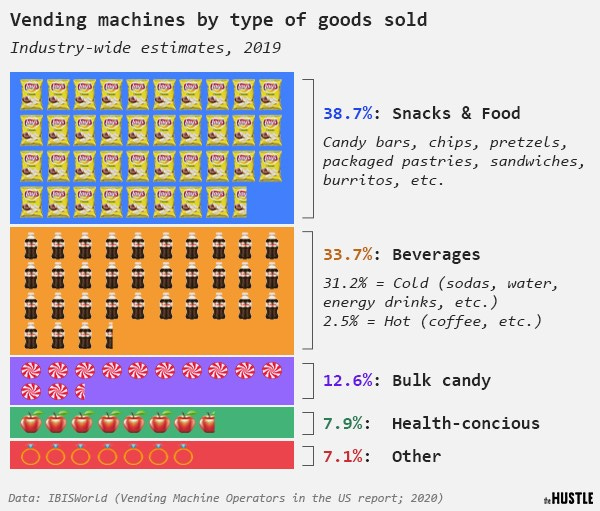 With the closure of "non-essential" stores last Spring and the uncertainty surrounding a potential Covid-19 "second wave", vending machines became so popular that many entrepreneurs entered the market in 2020. But is this distribution channel profitable?
In this particularly comprehensive article, we learn that:
There are 15 million vending machines worldwide;

2 million of those are currently in service in the US, generating 7.4 billion USD every year;

The market is particularly fragmented, with 2/3 of the machines owned by small, independent operators generating less than 1 million USD in revenue;

Vending machines are selling all kinds of products, ranging from 0.5 to more than 500 USD apiece;

Snacks represent 3/4 of the products sold by vending machines;

Over half of the machines are located in the companies' facilities.
As well as the economic model of a vending machine:
The cost of a machine ranges from 3,000 to 8,000 USD;

A single vending machine generates monthly average revenues of 300 USD (with figures spread between 75 and 650 USD, depending on the location and the product sold);

The gross margin on offered products is about 50%, on average;

10 to 20% of the income goes to the owner of the place where the machine is located;

Additional costs include insurance, maintenance, transaction costs, and taxes and represent 5 to 10% (costs can be pooled for operators with large fleets).
With low barriers to entry, high structural profitability, and growth driven by the Covid-19 pandemic, we're not done seeing distributors pop up in unexpected places.
---
👍 If you like Retail Chronicles and want to help it grow, please share this newsletter with your colleagues, followers, and friends. If you hate it, then send it to your enemies. Have a great day, and see you soon!
About us
Spring Invest is a French investment fund dedicated to companies that are shaping the future of retail. We invest both in Enablers, B2B companies providing innovative solutions to (e)retailers and brands, and Disrupters creating new models of distribution. Our investment approach relies on strong relationships with 50+ European Retailers and Brands in order to provide sales acceleration to our portfolio. We also provide operational support with a dedicated team of Venture Partners working with our portfolio on sales, communication, HR, and internationalization.