Discover more from Retail Chronicles
Emerging trends in retail and new commerce
Over 1,000 subscribers
Retail Chronicles | 23.06.2020
Emerging trends in retail and new commerce.

Hello, it's Laurent from Spring Invest, a French investment fund dedicated to RetailTech. Welcome to our last edition of Retail Chronicles, our bi-monthly newsletter about emerging trends in retail and new commerce.
---
🔥 2020 will be the year of "Total Commerce"
In a great and detailed paper, Fred Cavazza explains how Covid-19 sustainably impacted the distribution models and lead us into the Total Commerce era.

Coronavirus has challenged all businesses, especially retail players. In only 3 months, the entire value chain of the retail market has been impacted with a massive and rapid shift from physical retail to e-commerce. Whilst offline sales dropped in April, online sales increased by +50% on average.
Main takeaways are:
The closure of physical outlets over several weeks has forced brands and retailers to rethink their priorities and to consider digital as a condition of their survival.

Commerce has been customer-centric for the last 20 years. But Covid-19 made it transaction centric: priority is no longer to decide which sales channel should be favored, but to sell quickly in order to decrease inventory and to replenish cash.

Covid-19 is definitely blurring the frontier between offline and online commerce.

Point of Sale is not a better way to sell than e-commerce. E-commerce is a sales channel, that's it !

E-commerce represents only 10% of offline sales (with a strong and uninterrupted growth for 20 years), making it a very significant growth potential for brands and retailers.

E-commerce became more and more complex with many different models and channels that retailers should integrate: direct e-commerce, indirect e-commerce, social-media-commerce, mobile commerce, virtual commerce, voice commerce…

The most important now is to cover as many channels as possible while controlling multiple acquisition costs and new operating costs.     
Read the full paper (in French) here.
---
🎯 CPG brands are embracing direct-to-consumer strategy
As more and more consumers are shifting to e-commerce and try to avoid trips to the supermarket during the coronavirus crisis, CPG companies are now investing into their direct-to-consumer sales strategy. Series of announcements were made over the latest weeks:
Nestlé had already been operating its own shops is Switzerland for a couple of years now. They now partner with Deliveroo to deliver snack, candy and coffee at home.
PepsiCo just announced the launch of direct-to-consumer websites snacks.com that will sell more than 100 Frito-Lay products and pantryshop.com that will offer meal kits based on their own snacks like Quaker, Tropicana, Gatorade and Sun chips products.
Heinz Kraft is offering its own products through HeinztoHome.co.uk.
Even Ben & Jerry is selling ice cream through its own eshop and ships directly to consumers.
Selling products through e-commerce requires new competencies for brands like managing new customer acquisition strategies, specific logistics issues, and setting up a dedicated returned goods service. Competition with traditional wholesale is not that easy to manage. But brands are now investing considering DTC strategy as a long term run. Will distributors be squeezed by these new strategies as consumers are buying more and more online ?
---
🤝 Physical retailers and e-Merchants join forces to compete with Amazon in the US
Walmart and Shopify announced last week a partnership offering Shopify's e-merchants the possibility to sell their products on Walmart's marketplace. This could be a game-changer for the US e-commerce market.
Shopify is a famous CMS used by 1 million e-merchants all over the world providing modern tools to create and operate an e-shop (transactional website and back-office tools).
Shopify is now helping e-merchants to sell their products by providing them new channels of distribution. After providing connectors to sell on social networks, Shopify is now offering access to marketplaces.
For Walmart, this is a great way to compete with Amazon on its e-commerce activity. Through this deal, Walmart onboards 1 million of Shopify e-merchants (32.000 before partnership) providing more than 75 million of SKUs on its marketplace, providing an alternative to Amazon for e-sellers.
---
🔎 Are digital investments really paying off for retailers ?
The US retailer Kroger is a nice example of a digital transformation that took time to occur but is now paying back.
During its quarterly report, the group highlighted the impact of digital investments on its results :
3-year plan investment program started in 2017 to build an Amazon-style model mixing online and offline business.

All the functions were addressed: in-store, pickup, delivery…

Transformation was based on organizational processes, tools, and automation (partnership with Ocado).

Digital marketing innovative tools were used to target customers in a more efficient manner.

Q1 2020: $40.5 billion revenue, $1.3 billion operating profit, exceeding expectations.

Digital sales are now increasing quickly : +92% last quarter.

Profitability of the group is increasing.
And this is just the beginning:
E-commerce represents only 7% of the total revenue of the group to date.

It takes 4 years for a customer who switched from offline to online to have the same level of profitability.
---
🛵 News from food delivery market were prolific this quarter. Food delivery market grew fast during the Covid-19 crisis. In the same time, market is consolidating.
In April 2020, Amazon was authorized by British regulators to buy minority stakes in Deliveroo.
At the same time, Just Eat and Takeaway.com were authorized to merge in a $7.7 billion operation. In June 2020, the newly formed European group acquired its US-based counterpart Grubhub for $7.3 billion giving birth to a worldwide giant delivering 600 million meals for 70 million customers each year.
Doordash, representing 45% of the US market, is also active in acquiring companies (the last one being Caviar bought for $410 million). UberEats who was interested in buying Grubhub is also looking at acquisitions.
Food delivery consolidation was expected for a long time and is now accelerating. Most food delivery providers rely on crowdsourced delivery couriers and are facing many common hurdles: high marketing costs, significant labor costs, labor regulatory problems (like Deliveroo or Frichti), high markups for shoppers, and a challenging path toward profitability. Consolidation will reshape the competitive landscape and may help the players to reach a more sustainable business model.
---
💡 We have seen in a previous newsletter that time for retention has come. Retention is probably one of the most important metrics giving information about the product-market fit and driving the customer acquisition strategy. In this long post, Lenny Rachitsky, former growth project manager at Airbnb, compares retention rate from 20 companies to help founders to evaluate their growth strategy.
GOOD or a GREAT retention rate can be defined as follow:
Consumer Social: 25% is GOOD, 45% is GREAT

Consumer Transactional: 30% is GOOD, 50% is GREAT

Consumer SaaS: 40% is GOOD, 70% is GREAT

SMB / Mid-Market SaaS: 60% is GOOD, 80% is GREAT

Enterprise SaaS: 70% is GOOD, 90% is GREAT
Keep in mind that (i) reaching such level of retention takes time and (ii) having a lower retention rate is not necessarily bad if customer acquisition costs and cost of operations are very low.
---
📰 CBInsights Consumer Products Q1'20 report is out, providing key insights, trends, and emerging startups across the consumer products sector worldwide, including the impact of Covid-19 crisis.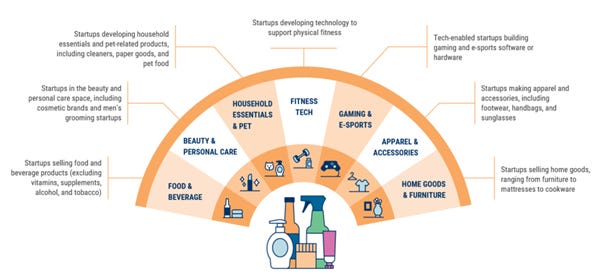 Key takeaways are :
Investments increased across major consumer products categories (+36% from Q4'19 until Q1'20). We made identical observations for consumer investments in France that is gaining interests from investors

D2C model maintains its momentum, reinforced by Covid-19

Beauty & personal care early-stage deals represented the majority of VC investment activity in Q1'20

Funding to home goods & furniture startups increased in Q1'20

Food and beverage startups surpassed $1.3B in Q1'20, as alternative protein companies continued to gain attention from investors

Funding to apparel and accessories and household essentials startups declined as Covid-19 spread.
---
We are pleased to announce that we partner with " La Nuit du Commerce Connecté ".
This special event brings together the retail ecosystem for a dedicated event to highlight the most relevant solutions to the major challenges of the retail players.
📅 The 7th edition will take place on November the 16th at Théâtre de Paris.  Spring will be part of the jury made up of 25 CEOs of brands and retailers during a 2h30 ceremony. More than 1000 retail professionals are expected: brand managers, marketing, digital, IT departments and their teams, as well as all players in the digital transformation of brands and e-commerce.
As a retailtech startup, you can take part in this major event and submit an application file right now to present your solution in front of brand and retail decision-makers. With the code #SPRINGINVEST2020, you will get 15% discount on your subscription.
More info on www.nuitducommerceconnecte.fr
---
👍 If you like Retail Chronicles and want to help it grow, please share this newsletter with your colleagues, followers, and friends. If you hate it, then send it to your enemies. Have a great day, and see you soon!
About us
Spring is a French investment fund dedicated to companies that are shaping the future of retail. We invest both in Enablers, B2B companies providing innovative solutions to (e)retailers, and Disrupters creating new models of distribution. Our investment approach relies on strong relationships with 50+ European Retailers in order to provide sales acceleration to our portfolio. We also provide operational support with a dedicated team of Venture Partners working with our portfolio on sales, communication, HR, and internationalization.