Discover more from Retail Chronicles
Emerging trends in retail and new commerce
Over 1,000 subscribers
Retail Chronicles | 26.10.2020
Emerging trends in retail and new commerce.

Hello, it's Alexandre from Spring Invest, a French investment fund dedicated to RetailTech. Welcome to the latest edition of Retail Chronicles, our bi-monthly newsletter about emerging trends in retail, brands, and new commerce.
---
💡 Differentiation, Differentiation, Differentiation
In this article, Ana Andjelic explains why brands should focus on creating and nurturing brand differentiation in the eyes of the consumer, through the creation of "buyer value".
It is important because (1) buyer value protects a brand's pricing power, as consumers are willing to pay a premium for the value they think they cannot get anywhere else, and (2) a consumer-centric growth strategy ensures that a brand grows through existing customers instead of spending all its money in the paid acquisition of new customers.
Here are some examples :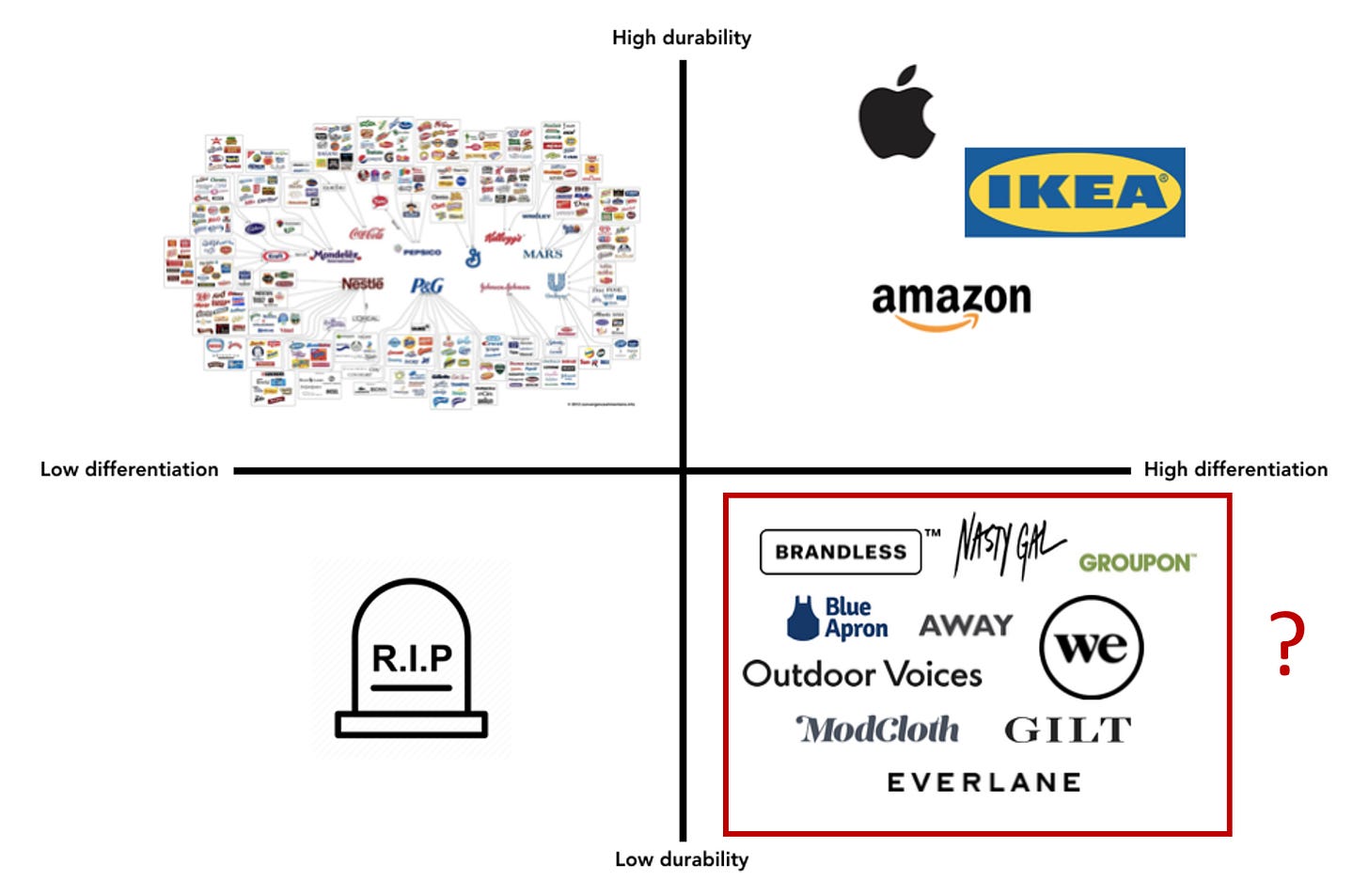 High differentiation, high durability. The brands put forward a entirely new way of doing things in their respective categories, and create a radically new buyer value : Ikea (access to well-designed, affordable furniture); Amazon (extreme shopping convenience); Apple (reinventing consumer electronics).

Low differentiation, high durability. Entire categories (CPG, automotive, consumer electronics, pet care, alcohol, travel, sports, toys, …) are made of brands that are very similar to each other, but that have staying power. They compete on incremental innovation, marginally better quality, price, and advertising. The priority is to stay in the game.

High differentiation, low durability. These brands enjoy a temporary differentiation that's been built around newness, trendiness, fresh tone of voice and visual handwriting and hyped up by media and PR.
It is clear that almost all modern brands, like DNVBs and ONVBs, are born in the bottom right corner. The risk for them is to fade into low consumer preference once the negative effects of their fractured internal cultures, lack of new funding/revenue, lack of brand-building, or a simple change of taste kick in. In those cases, they will rapidly fall into the RIP category.
At Spring Invest, we believe that the challenge for this new consumer brand generation is to make their initial differentiation a durable advantage. This can take several forms :
➡️ PRODUCT-led durability, meaning not only launch a great initial product that is not easily replicable but also the ability to constantly innovate through R&D, design, technology, and create additional products with the same level of differentiation over time.
➡️ COMMUNITY-led durability, meaning not only an engaged community but a community that is complex enough to have multiple needs to address so the brand can launch additional services/products over time that will compound together to become a true one-stop-shop for a specific audience.
➡️ DISTRIBUTION-led durability, meaning not only build an initial DtC channel, but also the ability to build a full-stack distribution by operating profitable stores, partnering with the adequate influencers, and build a network of resellers that are locked enough to last (higher margin rewards, exclusive contract, etc.).
---
🤳
Influencers are the retailers of the 2020s
When influencers started appearing in the early 2010s, the talk was that they would soon replace editors. That was wrong: they are now replacing retailers.
The reason behind this is that retailers are increasingly stocking the same brands and the same products, with no discernible point of view, and unless the customer is a truly savvy shopper, it has become an overwhelming and uninspiring scroll into the abyss to find a product.

Now, if a customer likes a specific influencer's style, he/she can shop directly from his/her feed instead of flipping through overstuffed racks or 10 pages of "new arrivals".

➡️ Influencers have solved the curation problem.

Also, customers now prefer to hear from people (emotional) than corporations (transactional). Indeed, an influencer will tell you exactly what they love about a sweatshirt or a couch, as the retailer will show a brief product description and fabric breakdown.

➡️ Influencers are selling the right way.

By now, it can also be said that influencers are also too much transactional as customers know they earn healthy commissions on sales. The main challenge now is to do it without sacrificing authenticity, one of the most important criteria for a brand when partnering with an influencer.

As a result, brands spent a total of $8Bn on influencers (sum of sponsored social media posts, long-term partnerships and collab, affiliate programs, etc.), in 2019, which is expected to increase to $15Bn in 2022.
---
📷 Instragram is pushing on the in-app shopping front
After discussing influence, let's have a look at what is happening on Instagram's front, still being the major tool for influencers :
Before Instagram introduced its own shopping features, the only way to direct users to products from brands was through links, which were often set up as affiliate links that sent users to a separate website or app. These links are often found in Instagram Stories or bios, but cannot be used in captions on photos or videos. 

Last week, Instagram added the ability for creators and brands to link to products on IGTV (Instagram's YouTube-like video feature) using shopping buttons (referred to as tags) that allow users to directly purchase products in-app through Instagram checkout. It will introduce the same capabilities to Reels, its short-form TikTok competitor, later this year.
➡️ For brands, it provides a more direct way to market products to consumers using the app's video features. For creators, this unlocks a new way to work with brands and sell their own products, such as merchandise. However, it is still unclear if shopping tags will be game-changing compared to the actual swipe up links as there is one major underlying hypothesis that customers would be ok to shop directly in Instagram (ie. outside the brand's environment). More here.
---
🎅
Retail trends for this very particular X-mas season
"This holiday season is going to be unlike any holiday season I think any of us have ever seen before." Chip Berg, CEO of Levis Strauss & Co
In this article, CNBC is explaining why this X-mas will be special. As a summary, here are 4 ways shopping will be different this year :
Shopping starts now: the consensus is that shoppers won't wait for Black Friday to begin tackling their gift lists (3 in 10 consumers say they expect to start their holiday shopping earlier than usual this year).

Load up the online carts: with the resurgence of Covid-19, many consumers will be staying at home and browsing the web for their holiday gifts. Deloitte expects holiday e-commerce sales to surge by 25% to 35%, amounting to c. $190Bn (compared with YoY growth online of 14.7% in 2019, when sales amounted to $145Bn).

Shipping could be a nightmare: such a big surge in online shopping is likely going to create bottlenecks in the delivery process. Salesforce is projecting parcels shipped by traditional delivery providers will exceed capacity by 5% globally for 1 month (ie. 700 million gifts are at risk of not arriving at homes before Christmas). 

What shoppers could offer: with travel on hold and entertainment venues closed, gifting an experience this holiday season is a lot harder (7 in 10 people said they are shifting some of their spendings from services to retail products). Analysts expect spending could pour into categories like at-home fitness equipment, comfortable clothing, beauty products, desk accessories, and home decor.
---
👋
Meet the Spring Invest team
If you have ever wondered who was the team behind this newsletter, here it goes.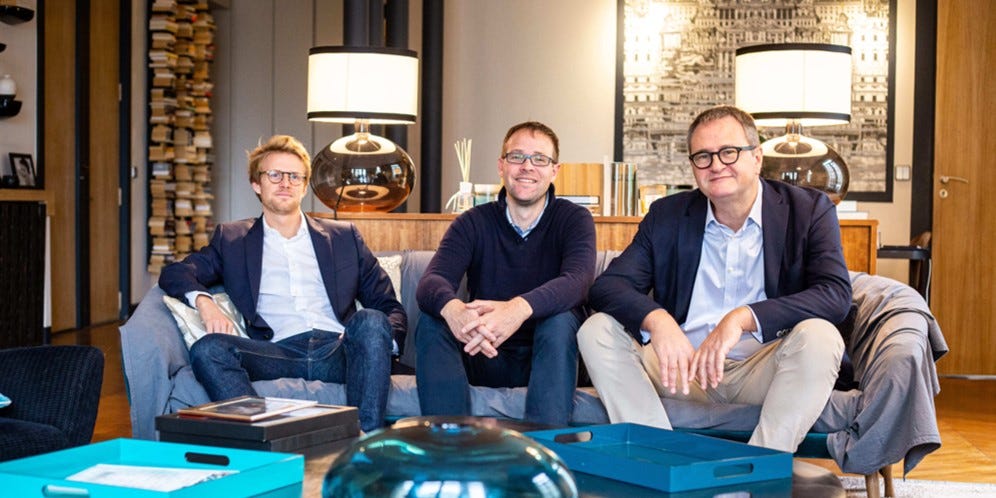 We are often being asked, "What is so special about you ?". And that is a fair question, specifically in a context where VC investment has never been so competitive.
A way to answer this question is to look at what we bring to the table :
➡️ FINANCING - We invest tickets ranging from 500k€ to 3m€ in Seed and Series A rounds, with the ability to follow up on successive financing rounds. Our process is fast, light, and transparent.

➡️ SALES ACCELERATION - We bring qualified leads to our startups by connecting them with executives among 50+ European retailers who have expressed short-term needs for operational deployment.

➡️ OPERATIONAL SUPPORT - We give our startups access to 9 Venture Partners, all seasoned entrepreneurs with deep experience and expertise in sales management, communication, human resources, or internationalization.

➡️ NETWORK - We give our startups access to a network of 100+ entrepreneurs and C-level managers who can help on specific issues and assist in the business.
Read more in Maddyness.
---
👍 If you like Retail Chronicles and want to help it grow, please share this newsletter with your colleagues, followers, and friends. If you hate it, then send it to your enemies. Have a great day, and see you soon!
About us
Spring Invest is a French investment fund dedicated to companies that are shaping the future of retail. We invest both in Enablers, B2B companies providing innovative solutions to (e)retailers and brands, and Disrupters creating new models of distribution. Our investment approach relies on strong relationships with 50+ European Retailers and Brands in order to provide sales acceleration to our portfolio. We also provide operational support with a dedicated team of Venture Partners working with our portfolio on sales, communication, HR, and internationalization.