Discover more from Retail Chronicles
Emerging trends in retail and new commerce
Over 1,000 subscribers
Retail Chronicles | 30.09.2020
Emerging trends in retail and new commerce.

Hello, it's Xavier from Spring Invest, a French investment fund dedicated to RetailTech. Welcome to the latest edition of Retail Chronicles, our bi-monthly newsletter about emerging trends in retail, brands and new commerce.
[Une version française de cette lettre est disponible en suivant ce lien.]
---
📈 Some data on retail in the Covid era

BCG and FoxIntelligence published a report on French e-commerce showing a sharp contrast between food and non-food. While food ecommerce skyrocketed during lockdown, its growth eroded quickly and it's now nearly back to pre-crisis levels. On the other hand, non-food e-commerce grew quicker after lockdown, carried by home equipment and DIY.
This spike in home equipment seems to be here to stay. BHV reengineered their store during lockdown and now finds that the split between home and fashion has shifted from 50/50 to 60/40 and probably 65/35 tomorrow.
Finally, Marketwatch finds that e-commerce growth is slowing in the US as "quarantine-fatigued" consumers visit stores again.
---
📰 More food for thought in Direct To Consumer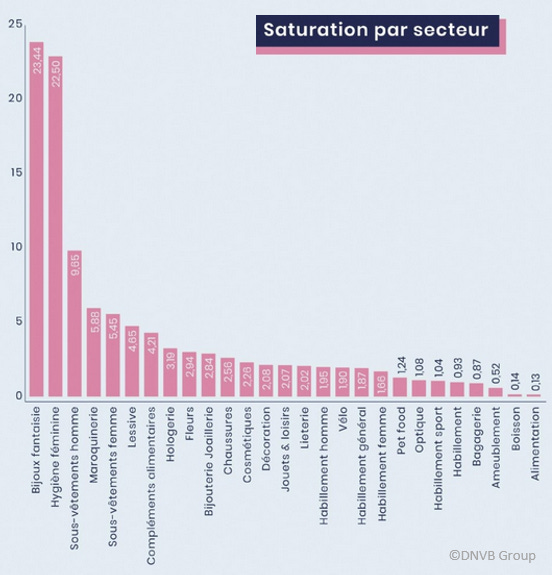 ⮞ Digital Native Group, a consulting firm, published an interesting analysis of French DNVB saturation by market segment. They basically divided the number of DNVBs in each segment by the size of the market. The worst saturated segments are jewelry, feminine hygiene, men underwear, and handbags. Least saturated are food, drinks, furniture, and luggage. Obviously, this "saturation" numbers say nothing about the strength of incumbents, customers' satisfaction with existing brands, or capacity to reach the audience. Still, the sheer number of DNVBs targeting the same tiny segment makes one wonder. 6 DNVBs in male underwear, seriously…
⮞ In other news, we published a shortened version of our article about ONVBs (the omnichannel evolution of the DNVB) in Maddyness.
---
🚀 The French RetailTech is on steroids
Two oversized deals were announced recently.
Exotec, provider of tiny robots for warehouse operations raised a €90m Series C round.
And Mirakl, the platform for B2C and B2B marketplaces raised a whopping €300m round.
These two deals show that the French RetailTech market is healthy, booming, and capable of producing market leaders. And successful French startups can raise big money in the covid era.
---
🛒 Speaking of success, let's talk about Shopify
VC Bessemer Venture Partners recently published some of their investment memos, among them the memo for their $5m investment in Shopify in 2010.
While it gives non-VCs an insider view of the way we work and tackle risk, I find this memo especially interesting on two points.
First, Shopify targets small businesses, and conventional wisdom used to say that it's a terrible business proposition because sales costs are prohibitive. Yet Shopify succeeded, beyond expectations.
And speaking of success and expectations, BVP had seven exit scenarii in their investment memo, the highest one being a $400m valuation in 2016. Shopify's market capitalization is $120Bn today.
If you're interested in Shopify, Web Smith wrote a great piece where he suggests reasons for their success in this cutthroat market : product focus and network effects. Worth a read.
---
🔎 Amazon's profits
Benedict Evans published an analysis of Amazon's accounts. He's trying to kill the mistaken idea that only AWS (Amazon Web Services), its cloud business, is making any profit at all.
At first glance it seems that way: last year AWS made $9Bn operating income out of a total of $13Bn (in 2017 it was worse, AWS represented $4Bn out of a total operating profit of $4.5Bn). But that's misleading. When looking more closely, it appears that US e-commerce operations are also vastly profitable, earning $7Bn operating income in 2019.
So the real picture for operating income is AWS: $9Bn, US e-commerce: 7Bn, RoW e-commerce: ($3Bn)
This is bad news for retailers. Amazon is not subsidizing its e-commerce with profits from AWS. E-commerce is perfectly capable of generating a healthy profit by itself. Splitting away AWS won't make the threat disappear.
---
👍 If you like Retail Chronicles and want to help it grow, please share this newsletter with your colleagues, followers, and friends. If you hate it, then send it to your enemies. Have a great day, and see you soon!
About us
Spring Invest is a French investment fund dedicated to companies that are shaping the future of retail. We invest both in Enablers, B2B companies providing innovative solutions to (e)retailers and brands, and Disrupters creating new models of distribution. Our investment approach relies on strong relationships with 50+ European Retailers and Brands in order to provide sales acceleration to our portfolio. We also provide operational support with a dedicated team of Venture Partners working with our portfolio on sales, communication, HR, and internationalization.